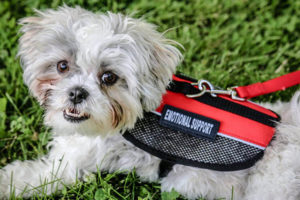 How Do I Get an Emotional Support Animal?
At USA Service Dog Registration we have helped thousands of clients qualify their ESA or Emotional Support Animal. Qualifying for an emotional support animal is easy and the whole process takes only a couple of days.
In order to legally have an emotional support animal you must have an emotional or psychological condition that requires you to have an emotional support animal. In order to receive this recommendation a licensed therapist or Doctor will need to evaluate your condition and provide a letter of recommendation for your ESA. This certification should be a formal and appropriately formatted letter with the therapist or Dr's contact and license information.
Your medical recommendation letter must contain some details which will inform the recipient that you are:
A current patient of the signing mental health professional.
Under this mental health professional care and treatment of your disability which is described in the Diagnostic and Statistical Manual (DSM) of Mental Disorders Version IV or V.
Substantially limited in performing or participating in at least one of life's major activities because of your disability.
Being prescribed an ESA as an integral part for the treatment of your current condition.
The ESA recommendation letter must be dated within one year.
At USA Service Dog Registration we helped thousands of clients receive their medical recommendation letter for housing or air travel. By clicking the link below you can purchase our medical recommendation letter packages. Within 24 hours after purchase you will be hearing from one of our medical specialists for your evaluation.