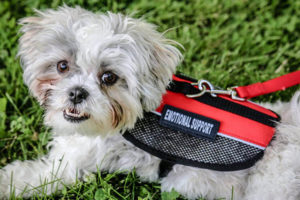 At USA Service Dog Registration we offer both Service Animal Registration and Emotional Support Animal Registration. A companion dog certificate would fall under the Emotional Support Animal Registration unless the dog is performing special services to help with a disability.
What is a Companion Dog Certification?
A Companion Dog Certificate doesn't exist by law but the terms are often misquoted or mistaken. Emotional Support Animal is by law an animal, most often a dog, that provides comfort to someone that has a medical issue that the animal helps with. ESA's are often referred to as companion dogs, or comfort dogs.
Through our network of licensed mental health professionals, we can help you with obtaining your companion dog certification or medical recommendation letter. With your companion dog certification you will have access rights for housing and on airlines. Under the Fair Housing Act landlords will have to allow your emotional support animal even if they have a no pet policy. And through the Air Carrier Act airlines will have to allow your dog to have access for free on the flight.
To learn more about Emotional Support Animals and Registration click here.